My first greetings
a long-awaited debut
Listening to: spite - Billy Nomates
Hi all and welcome to my first newsletter, yes!
Thanks for reading Annie Mar's Substack! Subscribe for free to receive new posts and support my work.
First of all happy year 2023, the year of the water rabbit. Wishing many blessings of peace upon you for this year.
Last year I stopped my Patreon because I often felt guilty or neglectful of my very lovely patrons, who never made me feel this way, and who I wilfully ignored when they reassured me. Although I loved writing updates and sharing my diaries, it often felt like another thing that I was pressuring myself to keep on top of. When I stopped Patreon, I stopped keeping my diaries to give myself a break, but then I gradually forgot what I even drew about anyway and everything felt either too big or too small to document and all my drawings were shite.
Anyway, I'm back and this time I'm not even asking for money (very charity minded of moi) so hopefully it'll be less pressure and more accessible. This diary I started in an old notebook of Mum's which was more or less empty except for these pages:
Started in 1990 in Spain before my arrival, then drawings by me on a ferry back to Ireland maybe? Speculation, of course.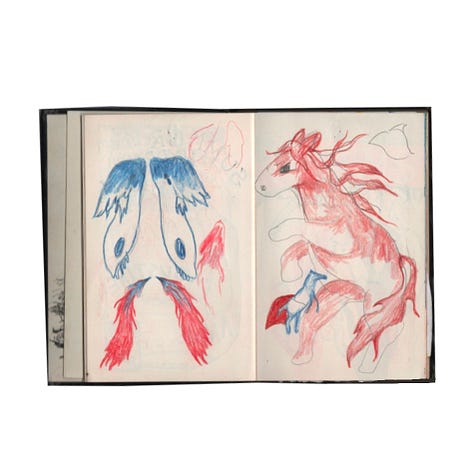 In my shameless plugging of this newsletter I promised I would deliver on some resolutions for 2023. Most of them aren't resolutions but goals I guess and none of them are that juicy, sorry. But I will share.
A few which might count as actual resolutions:
Spend more time with people I love

Spend more time with people I love, without alcohol

Be present in the time I share with others and the time I spend outside

Stop saying "I should"

More fun!

More solo time and adventure
Then, there are A LOT of work related ones which I won't bore you with, except for these few pearls of wisdom:
Take the time to think about each job before accepting

Dedicate more attention to planning and timing a project

Charge more!1111!

Keep regular accounts (pls pls pls stick to this one)

Risoprint!
And finally goals for this year, work related and regular life related
Climb a mountain

Hike for 2+ nights

Do a residency

Do a workaway

Start a newsletter/blog (wew!)

Do some big ass paintings (like, big paintings, not necessarily paintings of big asses, but not ruling it out either)

Draw a short, detailed comic

Make 2 food charts (one for menstrual cycle, one for everyday nutrients)
Sorry for the anticlimactic nature of these quite run-of-the-mill ambitions. Today we cleaned the black mould from the bedroom wall, which was also one of my goals for this year (she's a self-improvement guru). Then I cleaned the windows of the bedroom, so now my view is unobstructed by both hazardous black stuff and harmless dirt, to the wonderful world of neighbour-spying.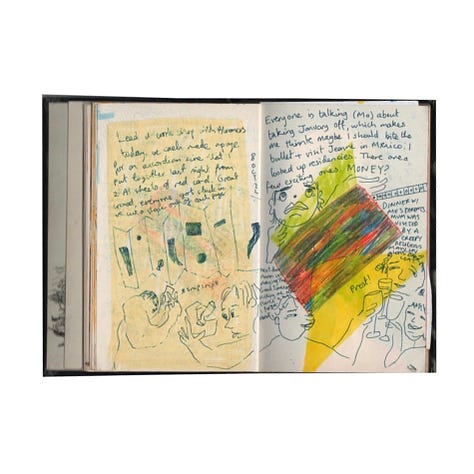 Thanks for having a look at these bits from last year. This January I have been going steady with my diary so there will be more juice next month. My intention is to work up to spilling my whole heart blood and guts onto the page, as well as more astute observations of like nature and stuff. *watch this space*
I know a lot of people don't like to buy into the resolutions/new year thing but I love the opportunity for renewal it brings, for starting afresh and abandoning the embers of the previous year. Last year January was a scary and uneasy time, and I am in awe of the capacity for change that the seasons bring. The cycle continues, giving us new reasons for hope and anticipations for the next stage just as you are growing tired of the last.
Love you all, thank you for subscribing, hopefully I will see more of you around, and I desire a year full of light and promise for you. It's only the beginning!
Thanks for reading Annie Mar's Substack! Subscribe for free to receive new posts and support my work.